As an electrician, I'm always surprised about the huge range of items I get asked to fix or repair and the variety is perhaps one of the things I love most about the job. I thought it may be handy to put together this quick guide around what services we are able to offer so that customers know the different things they can get an electrician to do!
The list of items that electricians can fix or install is pretty wide-ranging. This article is designed to provide a brief snapshot, so if you are asking the question what do electricians fix? You've come to the right place!
Electricians fix and repair many things including:
Faulty wiring in homes
Faulty generator motors
Lighting issues
Power issues
Air conditioning repair
Fire alarm repair
Tripping fuse boxes
Underfloor heating copntrols
Electrical appliances
Surge protection systems
As well as fixing the items listed above we also repair and carry out a wide range of tasks that we shall briefly look at below. If you are thinking of becoming an electrician, or want to know if hiring an electrician is suitable for the job you have, this post will provide the answers!
What Do Electricians Fix?
Electricians are tradesmen who specialise in the electrical wiring of stationary machines, buildings and related equipment. We may be employed to install new electrical components or the maintenance and fix of existing electrical infrastructure.
As well as general all-around electricians, some choose to specialise their career working in areas such as wiring ships, aeroplanes, mobile units, and data cables.
It's the job of electricians to keep homes and businesses safe, comfortable, and functional by responding to breakdowns as well as carrying out preventative maintenance work to stop problems occurring in the first place.
Some of the Most Common Issues Electricians Fix
Troubleshooting & fault finding
If a light fixture goes out or a socket outlet isn't working, an electrician can take care of these tasks. We thoroughly test the circuits to find the faults, not always easy when the cables are buried in the walls and we cannot see them!
Emergency Repairs
If your electricity goes out in the middle of the night or there's another electrical emergency, you can call us to get things up and running again quickly. An electrician on call will respond quickly at any time of night to get the power back on.
If we can't get the problem fixed in the middle of the night we will at least make the area safe until we can return the next day with a few new parts!
Socket Outlets and Light Switches
These are some of the most common appliances that we fix. When fixing sockets and lights we often decide alongside the customer to install programmable timers for and other intelligent devices that enable homeowners to control their lighting or sockets remotely via smartphone or tablet apps.
What Can an Electrician Repair?
Electricians carry out repairs to the electrical lines, systems, and equipment that provide power to our homes, businesses, schools, and hospitals. Some electricians choose to specialise in certain areas of electrical work, such as generator repairs, making them experts in their field.
Here is a brief rundown of some of the systems that electricians can repair:
Generator Repair
If there is an outage of electricity in your area, generators can be a lifesaver. Generators require maintenance and repair throughout their lifespan.
Air Conditioner Repair
If your air conditioning system isn't working correctly, then you will need an electrician to come and repair it. Some of the more advanced systems that are in use today, especially in commercial premises, require a specialist air conditioning electrician to repair them.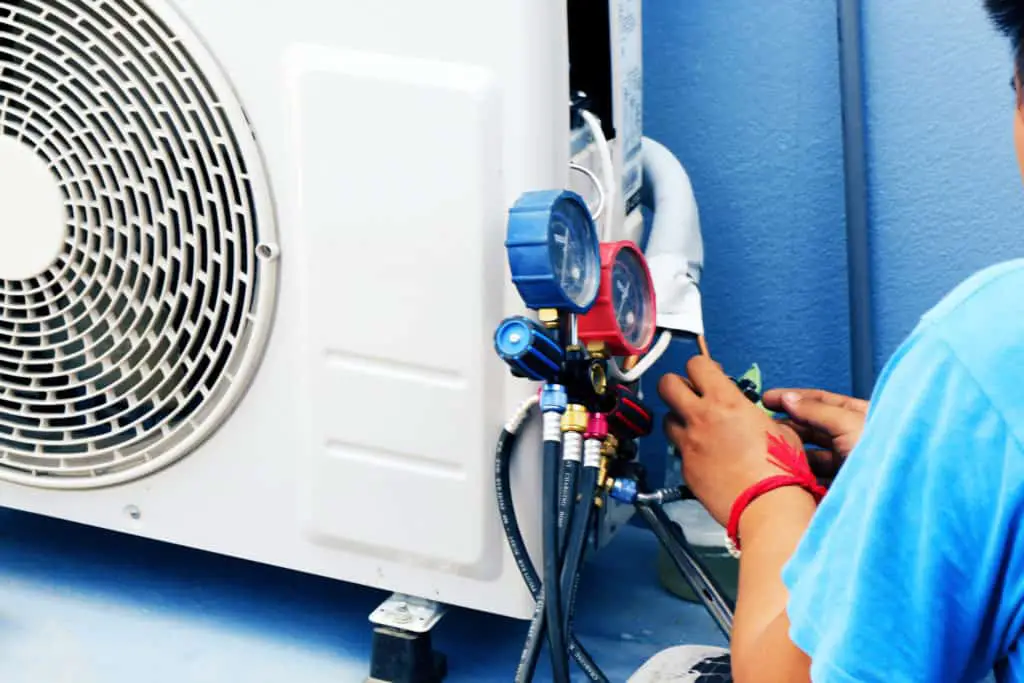 Ceiling Fan Repair
A ceiling fan can provide extra ventilation and improve temperature control within your home. They are relatively easy for an electrician to install, but if there is something wrong with the motor or wiring, it will be necessary to call in an electrician to do the job safely and correctly.
Residential Electrical Repair
Residential electrical work can include repairing existing wiring or rewiring a home, repairing lighting fixtures and switches, and installation and repair of home appliances such as dishwashers, dryers, and cookers.
Industrial Electrical Repair
Industrial electrical repair requires a different skillset from domestic electricians. The sophisticated equipment used in manufacturing plants can take a long time to learn (such as Program Logic Control systems)
Industrial electricians are responsible for installing, maintaining, and repairing high voltage motors, generators, and other machines that run on electricity.
Commercial Electrical Repair
Electrical work in a commercial setting may involve repairing security systems, indoor and outdoor lighting, data services, power issues, and life safety services such as fire alarms and sprinkler systems.
What Does an Electrician Fit?
Electricians are required to fit a large range of appliances and electrical systems in both commercial and domestic premises. These appliances can range from fuse boxes to small bathroom fans and electrical systems ranging from power distribution to heating controls.
Here is a brief look at some of the systems electricians fit:
Fuse Boxes
There are different types of fuse boxes; one is the traditional fuse box which has fuses to disconnect the power when there is an electrical fault. This type is no longer installed in new properties due to the wiring regulations but they are still found in older homes, although they are becoming much less common.
The second type is called a consumer unit which contains circuit breakers instead of fuses. A circuit breaker will trip and disconnect the supply if a fault occurs but has the advantage that it can be reset.
Heating Controls
Heating controls are vital in any home. Electricians fit control systems, such as central heating or under-floor heating systems which can then be controlled manually or electronically via an app on your phone or tablet device.
Underfloor Heating
Underfloor heating has grown in popularity over recent years; it offers a great way of keeping warm in winter and is also an attractive alternative to radiators allowing us to free up wall space from having bulky radiators mounted onto walls.
Electric underfloor heating is a popular option for many and the number of people requesting that this system be fitted is steadily growing.
What Services Do Electricians Offer?
As well as the fitting and repairing of electrical systems, electricians also offer many other services such as electrical condition reports, surge protection systems and fire safety systems.
An electrical condition report will ensure that the wiring in your home meets the required safety standards and that there are no issues with your electrical systems which could lead to fires or other hazards.
Electricians ensure that your home is better protected by installing items such as surge protection devices (which protect our valuable electronic devices in the event of an electrical spike) or by installing fire safety systems such as smoke alarms and carbon monoxide detectors.
Final Words
These are just some of the systems and appliances that electricians are able to fix. We can see that electricians are able to respond to a wide variety of tasks, so next time you find yourself asking what do electricians fix? it may be quicker to ask what electrical devices we don't fix!