Whilst at work today, after I had finished replacing a socket, the customer commented how quickly I had completed the job and how they had expected it to take a lot longer. The socket replacement was a pretty straightforward swap so I'm not writing this in an attempt to blow my own trumpet about how quick I work. However, it did make me think that customers may want a guide as to how long replacing a socket will take an electrician.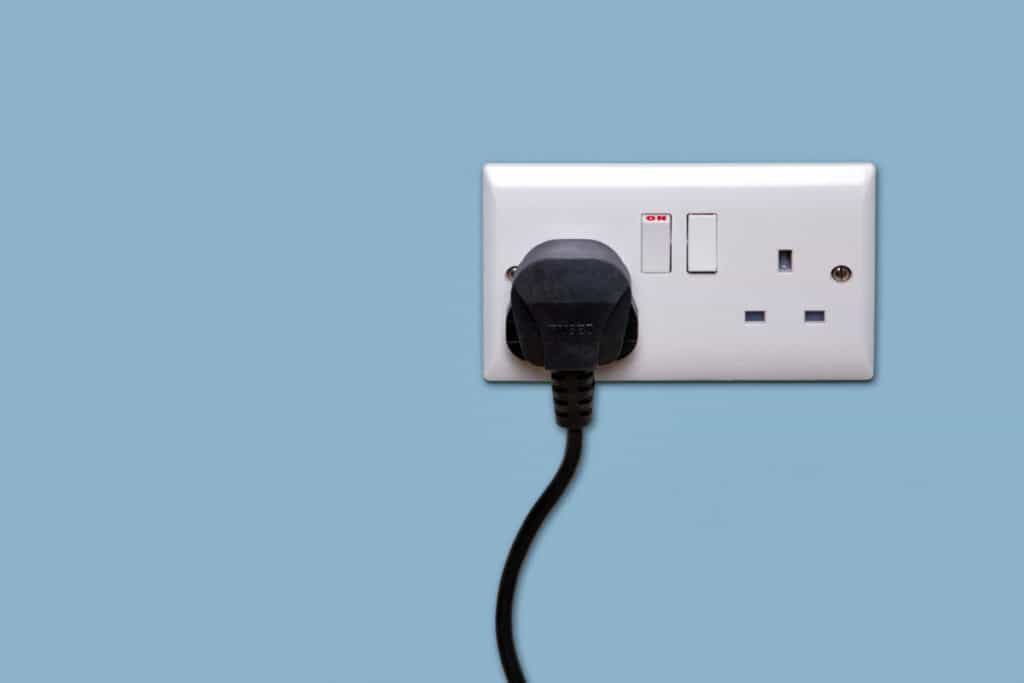 In my experience as an electrician, replacing a socket outlet usually takes around one hour. This is divided into 30 minutes for carrying out the replacement and then another 30 minutes for completing the testing and certification. The cost and time scale varies based on factors we shall look at.
As well as giving my own opinion, this article it's also a great opportunity for me to find out if I'm about average (time wise speaking) as other electricians; so I also asked several of my colleagues for their approximate time scales to replace a like for like socket outlet.
When asking some of my electrician colleagues, one hour was the average amount of time that we could all agree on. It's worth noting that this hour doesn't include driving to and from the job and is the average timescale for a straightforward like for like replacement only.
Let's take a look at a few different factors that affect timescale and price so that customers can be prepared before meeting their chosen electrician.
Comparison Table of How Much Socket Outlets Cost
A good starting point to get an idea of the cost of replacing a socket is to find out what the materials will cost to buy. Below is a table comparing various popular socket outlets and their cost.
Brand
Type of Socket
Cost
Each (£)
Cost for 5
(£)
Cost for 10
(£)
MK
Logic plus 13A 2-gang DP Switched Plug Socket White
3.80
19.00
38.00
BG
Nexus Metal 13A 2-gang SP Switched Brushed Steel with Graphite Inserts
10.26
50.75
101.50
Schneider
Electric Lisse 13A 2-gang SP Switched Plug Socket White
2.09
9.95
18.90
MK
Logic Plus 13A 2-Gang DP Switched Socket + 2A 2-Outlet Type A USB Charger White
23.65
112.55
215.70
LAP
13A 2-gang DP Switched Socket + 3.1A 2-Outlet Type A USB Charger Brushed Stainless Steel with graphite Inserts
17.99
89.95
179.90
LAP
13A 2-Gang Switched Power Socket Brushed Stainless Steel with Graphite Inserts
10.99
38.99
77.98
TradeRated
13A 2-Gang SP Switched Plug Socket White
6.60
31.30
59.30
BG
900 Series 13A 2-Gang Switched Smart Socket White
11.89
59.45
118.90
Energie
MiHome 13A 2-Gang SP Switched Smart Socket White
31.79
158.95
317.90
BG
900 Series 13A 2-Gang SP Switched Passive RCD Socket White
14.49
68.80
137.60
Comparison of Electrical Socket Outlet Features and Prices
N.B: These products and prices were found at Screwfix. I tend to find them very competitive price wise compared with other electrical retailers.
N.B.2: 2-Gang is the name given to a double socket, (like the one in the pic) and 1-Gang means a single socket. 1-Gang are generally a little cheaper than 2-Gang.
We can see that the cost vary between the different brands, the type of finish and additional functions that the sockets have. Some of the options offer multipack savings but not all of them.
USB functionality (which is becoming a lot more popular) is a far more expensive than a regular socket, costing around 10X as much. The new range of smart sockets which can be controlled via wifi are also vastly more expensive!
We can also see that features such as brushed metal effect cost a lot more. Worth remembering that these differences quickly add up if we are replacing multiple sockets in our home.
The electrician doing the work will be able to advise the socket needed but it helps to have a bit of a guide I think.
I asked a few colleagues, and also did some research on electrical forums, about electrician's favourite brands. Maybe no surprise that the opinions varied so much it doesn't seem worth going into much detail over which brands are better.
For what it's worth if I were purchasing some basic white sockets to fit in my house I would favour the brand MK.
The best advice I can give is buy from a reputable supplier, (such as Screwfix) That way we know we are buying genuine parts that have been manufactured to British standards.
There are horror stories (such as this one) regarding cheap electrical items purchased form online retailers.
Depending on the electrician hired, they may ask you to supply the sockets you desire or if you are not concerned then most are more than happy to supply and fit the socket of their choosing.
How Easy it is to Replace a Socket Outlet Affects the Timescale
The replacement of a socket outlet is a reasonably simple task for an electrician, however, the reason for the replacement being required will have a large affect on how difficult the task is. If there is an underlying fault in the wiring the task becomes more complex.
If a customer requires a socket to be replaced (perhaps deciding to upgrade to sockets with USB ports built in) and the wiring and circuit do not need adjusting then it is a reasonably straightforward task.
When an electrician replaces a socket they have to make sure that the wiring is safe and passes the test results as required by the regulations (BS7671 linked here for more info)
If the replacement work is being carried out due to a fault or a damaged socket then the task becomes more difficult (and there for time consuming) as the other underlying issues will also need to be addressed.
Even a straight swap for a USB socket can throw up unwelcome surprises. These types of socket are notorious for being a lot deeper and a real struggle to get them to fit in the existing back box (a box that is sunk into the wall that the socket screws into). Sometimes extra chasing of the walls are required.
How Much Does an Electrician Charge to Replace a Socket Outlet?
To replace an electric socket outlet an electrician will charge on average £40 for the work. They are also likely to charge additional costs for the materials, travelling time and any test certificates needed.
Getting an average price that I can put here is difficult and not very accurate to be honest as it depends on so many factors, such as the distance the electrician will have to travel, type of socket chosen (as we have seen usb sockets are far more expensive) and if any additional work (such as plastering after chasing) is required.
I am employed as an electrician by a company who send me out to jobs. It wouldn't be fair for me to try and estimate what a self-employed electrician would charge as I'm no expert on the amount of additional expenses they have such as van costs, certificate costs etc.
Some websites (like the one linked here) discuss averages but the ranges are pretty broad and it depends greatly on what part of the country we live in.
Finding an Electrician for a Quick Job Like Replacing a Socket Outlet
In my opinion the best option is to get a few quotes from some electricians in your local area. Many will happily quote a small job over the phone and be able to give you a ball park figure before coming to look in person.
Websites such as mybuilder and rated people also provide good choices to get some real life quotes. They allow customers to post the job for free and get real life quotes from a range of electricians who want to do the work. This can save a good amount of time compared to ringing around.
 Do You Need an Electrician to Replace A Socket?
You should always get a qualified electrician to replace a socket. As an electrician myself, that statement may seem self serving but I have attended many properties where tenants have attempted their own DIY electrical work and caused very unsafe situations.
I appreciate that may seem biased to some readers, and everyone is free to make up their own minds about DIY electrical work, but getting a professional in at all times is my advice from a keeping safe standpoint!
I hope this post has been useful. You may like to read about how long it takes to replace a light fitting linked here.