It's that time of year at the electrical contractors where I work when the new intake of hopefuls arrive for their apprentice interviews. I always feel sympathy towards the young men and women who turn up as they always look so anxious! Hopefully writing this post will be able to help others in their shoes and put some of the common interview fears at bay.
What should I wear to an apprentice electrician interview? seems to be a common worry on the electrical forums so I shall focus on this question first. We all know that clothes make or break a first impression but knowing what to wear for an interview when the job isn't exactly office-based (like an apprentice interview) can be tough waters to navigate.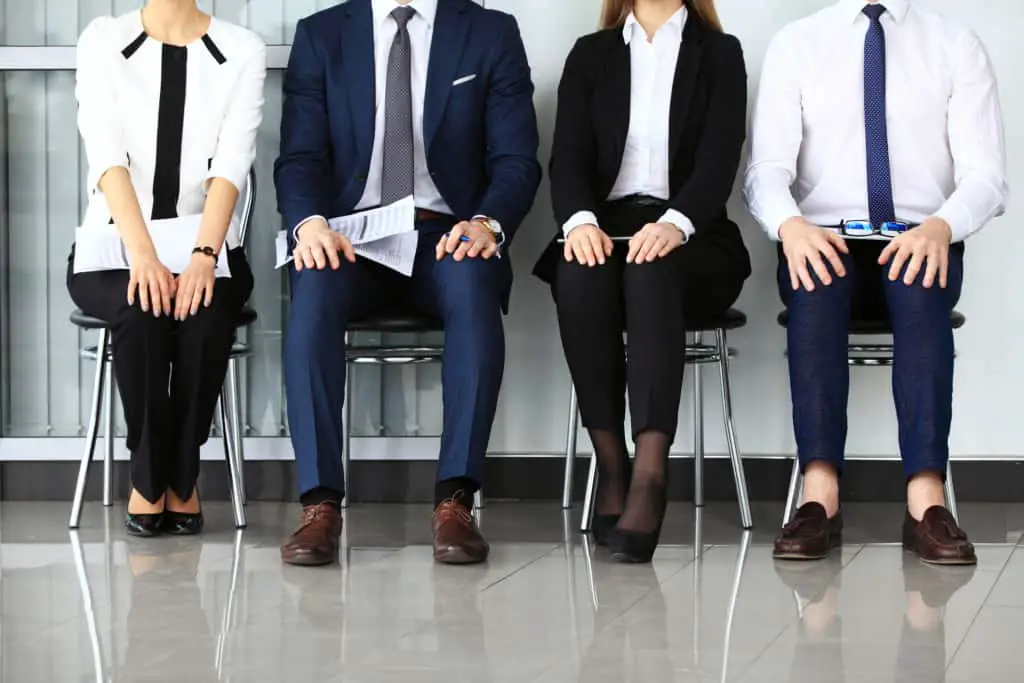 What Should You Wear to an Electrician Apprentice Interview?
Overwhelmingly, the advice was that apprentice interviewees should wear either a suit and tie or trousers, a dress shirt and tie. I spoke to several of my managers who between them have been responsible for hiring hundreds of apprentices throughout the years.
To get more specific, they mentioned that smart doesn't have to mean a full suit and tie, or a full business dress but clean well-fitting clothes are a must, and pairing the outfit with clean practical shoes is also vital.
Men should opt for a suit and tie or a pair of trousers; a shirt, tie and shoes are equally suitable. The shirt should preferably be a dress shirt – i.e not a buttoned-down collared shirt (oxford shirt) as these can look a little too informal.
Women should wear a pair of trousers, a smart-looking top (jacket optional) and a pair of smart shoes. Women can choose to wear a skirt if they wish but it is advised against as part of the interview may involve a practical element such as climbing a step ladder.
Do Apprentice Interviews Have Practical Elements?
There are often practical elements to apprentice interviews. Don't worry though, you are not going to be thrown onto a building site and asked to work in your best suit! Practical tests for would-be apprentices are tasks such as bending wire to show manual dexterity or climbing a step ladder.
Part of the interview process that my company does for new apprentices is to have them climb a small step ladder, demonstrating that they can maintain three points of contact at all times. Doing this is in a skirt or a suit that is too tight could make a simple task a bit awkward and make us feel self-conscious.
These practical elements are why choosing the correct outfit to wear to an interview is important. However, this doesn't mean turning up in your jeans and trainers expecting to smash the practical tasks. The focus is very much on how the candidate performs at the interview, as practical skills can be taught.
What Not to Wear for an Apprentice Interview?
Even though apprenticeships such as those in the electrical trade are generally considered blue-collar jobs that don't require smart workwear on a daily basis, it is still important to dress smart for an apprentice interview. Turning up to an interview in casual clothes gives a bad first impression.
When I was 16 I went to an interview for a part-time job in Halfords (the car parts store). I really wanted the job at the time and thought the interview went well. When I met my friend after and told him I had just been to an interview he said, "what wearing jeans!?" As soon as he said it I knew I'd made an error. After waiting for 2 weeks they finally let me know that I had been unsuccessful.
This error taught me a lot. I thought "what does it matter what I wear the place sells car parts" in the same way an apprentice candidate may think, "what does it matter what I wear, it's not an office job." Unfortunately, it is a game we all have to play. Even though you will not wear a shirt and tie at work, dressing smart gives the impression to the interviewers that you actually want the job.
What Should You Wear to a Linesman Apprentice Interview?
Much like attending any other apprentice interview, those attending a power linesman apprentice interview should wear either a suit and tie or a pair of smart trousers, a dress shirt and a tie. Both should be paired with smart, clean shoes.
Women should wear smart trousers, a smart top and an optional jacket with smart practical shoes. Skirts are not generally advised as like with electrician apprentice interviews, there can be some minor practical elements to the interview day such as climbing a step ladder.
Although life as a power linesman is outdoors, and if you are successful and get the job the chances of ever having to put a suit on again whilst at work are practically zero, its important to show that we are serious and want the job enough to put in a small amount of effort required to dress smart.
Also see: Is being a lineman dangerous?
Final Thoughts
So, What should you wear to an apprentice electrican interview? Basically something that is smart enough to be worn in an office environment, but also practical enough for any work related assessments they ask you to perform.
It's not that clothes define us as people, but like it or not they do give out signals to the rest of the world. Our aim with an interview is to put our best foot forward. Even if you only put a shirt and trousers on for weddings, funerals and interviews it shows we are serious about wanting the job as we are willing to make the effort to dress up.
The alternative, to rock up in jeans and a casual jumper, gives the impression that we are not fussed either way. even if this is far from the truth by not dressing smart we are giving ourselves an unnecessary additional hurdle to climb.