Starting out as an apprentice electrician without any tools can be a little daunting. There are literally thousands of different tools you can spend your hard-earned (but rather small) early paychecks on. In this post, I will show a list of 15 essential tools I use as an electrician every day which I feel are the most important ones to get when starting out.
I've included the photos of each tool (plus a short video at the start) to demonstrate I do actually own and use these tools – as I think transparency is really important when it comes to tool recommendations online.
Of course, you don't have to rush out and buy all the tools at once, but it will hopefully serve as a guide to prevent you from spending money on tools that you'll get very little use from at the start of your career. If you're just looking for gift ideas this post linked here will help!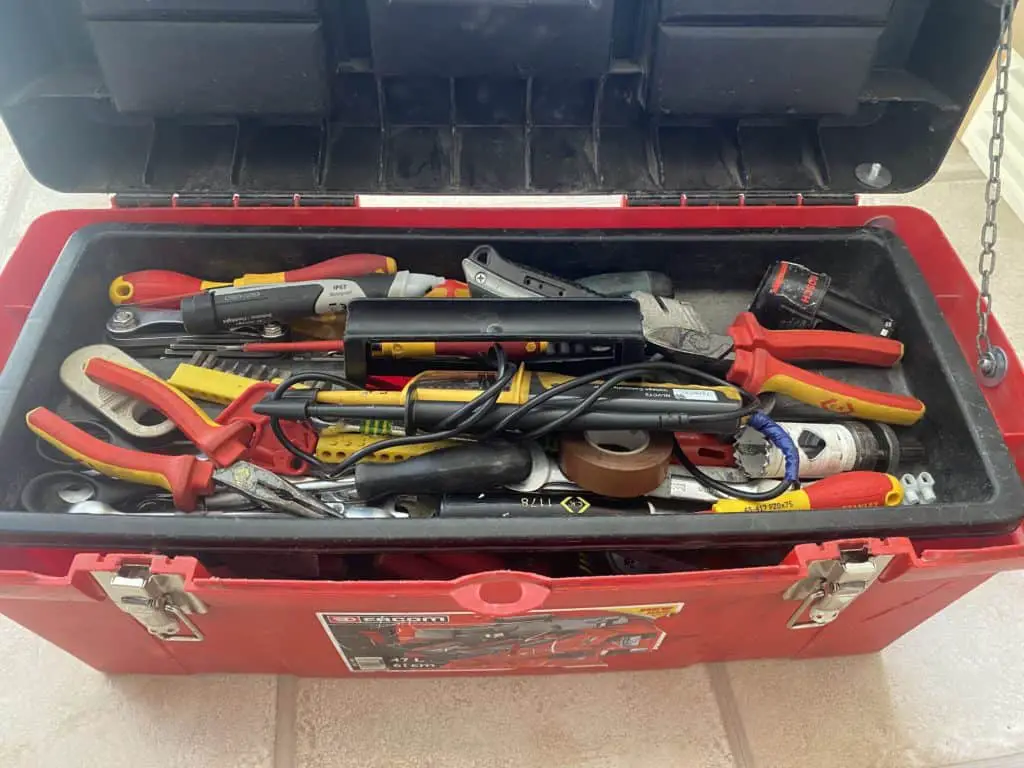 The list of tools I use daily as an electrician are
VDE Side Cutters
VDE Long Nose Pliers
VDE Screwdriver set
Water Pump Pliers
Tape Measure
Allen Keys
Hacksaw
Electricians Knife
Crimpers
Hammer
Spanner Set
Spirit Level
Metal File
Set Square
Voltage Tester
That is a brief summary of what I would consider the basic tools that will get you going. Sparkys are a friendly bunch and people will be happy to lend you the tools that you need (as long as you take good care of them and give them back at the end of the day!)
The video below is just a 30-second introduction to show how many tools we end up carrying around on a daily basis. Over the years the number of tools (and the weight of our toolboxes dramatically increases)
So let's get into a little run down of the basic tools electricians need.
If you would like to click the amazon links in this post (they open in a new window) I get a tiny amount of commission from Amazon if you go on to purchase, which I can use to buy a coffee to help write me these posts. Of course, that's not why I'm recommending them, these are tools I use and get great value from.
1. VDE Side Cutters
VDE side cutters (or cable snips as they're often called) are probably the tool we use most often. Finding a pair that is the right size is important so you may end up experimenting with a few different types. The ones pictured by CK are very popular and they're my go-to pair. Whenever they get damaged or lost I always replace with the same style.
VDE will be mentioned a few times in this post. It refers to the rating that electrician tools have that makes them shockproof. I'll put a link here to a much better explanation of VDE then I can do.
Important note: VDE does not mean we can work live! It is a last line of defence. If you cut through a live cable with VDE side cutters as well as risking serious injury (or death) you will almost certainly damage the cutters and have to get a new pair.
2. VDE Long Nose Pliers
The list of different pliers available can be a little bamboozling. You'll definitely want to build up your collection of different types as you go, but if just buying one pair I would recommend going for long-nose pliers like the ones in the photo. The pointy tip (technical term) is a HUGE help at times and they will handle 90% of the tasks that other larger pliers can do.
3. VDE Screwdriver Set
Screwdriver sets are a personal preference of each electrician. We use the screwdriver so much in a day, having one that is comfortable and can easily spin in our hand is vital.
I started out with a CK set but I didn't like the oval shape as it made it difficult to spin quickly in my hand. The set from Wiha in the photo above, I really like and have been using it for a while.
Another great thing about the Wiha screwdrivers is that they sell them individually. Once you've bought a set you only need to buy individual replacements for the ones you inevitably snap or lose.
Link to the set on Amazon Here
4. Water Pump Pliers (Grips)
You may be asking why electricians need water pump pliers. This is the correct name if searching for this tool online, but most electricians call them grips. A lot of items we use on-site are 20mm in diameter or above (such as metal conduit)
We use these pliers all the time when working with things such as conduit or when making off SWA cables. Really no other tool will make do in its place (possibly an adjustable spanner might)
Unfortunately, we need 2 pairs of these pliers, as we need to hold one end whilst tightening the other end. I wouldn't recommend the CK ones in the photo above as I've just upgraded to a new pair of Knipex ones, with a button to stop them slipping, linked below (these are in my other toolbox at the mo locked on site) and they are awesome!
Link to Knipex pump pliers on Amazon here
5. Tape Measure
Tape measures can be picked up really cheaply, we even manage to win them in Christmas crackers sometimes!
It's definitely an area where you can save money and buy a cheaper tape measure to begin with (maybe not Xmas cracker cheap) but it is something you will upgrade as you go along. A sturdy tape measure makes all the difference when measuring long distances and is so much less frustrating than a flimsy cheap one.
The one above is the one I always use, linked on Amazon here.
6. Allen keys
Lots of bolts we come across require Allen keys. This is one of those situations that is tempting to try and jam your screwdriver in to make it work but it just ends up damaging components (and screwdrivers)
A set of Allen keys can be a multitool set (which I used for years) or individual ones like the new Wera ones I've bought pictured here.
These Wera ones are a favourite among many electricians as the different colours make it easy to grab the size you want quickly.
Link to Wera set on Amazon here
7. Hacksaw
So I've put two tools together here as we need both a regular-size hacksaw and a junior hacksaw. The regular hacksaw is used every day for cutting things like trunking and conduit. A junior hacksaw is used for the finer cutting tasks and making off SWA cables.
If we're lucky someone on-site may have a battery-powered jigsaw that we can use, but when starting out a hacksaw is the much cheaper option (even if it makes our arm ache a lot more)
I'll link to the hacksaws I use, as I've found them to be the best ones over the years. Amazon Link
8. Electricians Knife
Now I know my knife isn't actually an electrician's knife – it's an old-fashioned Stanley knife. The reason for favouring a Stanley knife is that I find these to be better in most instances. The advantage of a Stanley knife is that I can change the blade regularly to keep it sharp. The downside is that they are a lot more dangerous than an electrician's knife.
Many employers ban their employees from using a Stanley blade. Other electricians just find they are too unpredictable and risk scoring the cables all the time. I personally find them useful but I do have an electrician's knife in a toolbox as well.
Stanley knife not linked to on Amazon as they don't like knives being linked to!
9. Crimpers
These are technically called ratchet crimpers. We use crimps as a method for connecting and joining cables using a compression joint.
Readers can see the red, blue and yellow dots on the crimpers. These show the different sizes of cable that these crimpers can crimp.
There is a system in the UK. Red crimps take cable up to 1.5mm, blue up to 2.5mm and yellow is used for up to 6mm cable. These are the most common sizes we come across and these crimpers can get a lot of use. I previously had CK ones but found they failed very quickly. These are from Newlec and are still working well after a few years.
I'll link to a set on Amazon Here but Newlec is a brand from wholesaler Rexel so if you want these specific ones you'll need to head there.
10. Hammer
Every good tradesperson needs a good hammer. Compared with other trades such as carpenters, we use our hammers relatively infrequently so I wouldn't suggest spending lots of money on a hammer. A good quality mid-priced one like this CK version is perfectly acceptable in my opinion.
When we need a hammer we should always get a hammer out of the box. I remember the look of disgust when I started as an apprentice and the electrician I was training under caught me using a pair of pliers to do some light hammering!
Link to CK hammer on Amazon here
11. Spanner Set
Apprentice electricians are often surprised by the amount of mechanical work that we do. By this I mean the amount of metalwork we come across that needs nuts either tightening or undoing and metal containment that needs to be installed.
A good set of spanners are a must. The ones I get from Halfords have a lifetime guarantee. A few times I've walked into the shop with just a broken spanner and no receipt; they have exchanged it for me no questions asked. Would defo recommend.
Link to an alternative very nice Wera set on Amazon here.
12. Spirit Level
If another electrician asks you to go to the shop to get bubbles for spirit level then they're taking the mickey. Apprentices do however need a good spirit level!
There is nothing more frustrating than installing a socket or light switch, looking back at your fine work and realising it is wonky on the wall. A good spirit level will solve this problem.
The one I use (photo above) has a magnetic base. This is incredibly handy when trying to level metal containment such as tray, ladder or conduit as it sticks to it, no more watching the level slip off and fall slowly to the ground knowing it will never be level again.
Stabila level Amazon link here
13. Metal File
In a perfect world, I would suggest getting a round and a flat file but if we're trying to cut costs then a flat file would be my first choice.
A round file can do everything a flat one can but it's just going to be a little more awkward on flat edges and we are going to end up with little round groves.
Alternatively, a flat file is unlikely to get into the hole you just drilled that needs filing, but we can probably make do and it will be better on all the flat edges that we cut.
The ones I use are CK but most files I've come across are created pretty equally.
14. Set Square
A set square allows us to mark straight lines across the trunking or whatever it is we are about to cut. The one I use in the photo has the added benefit of having a sliding edge to allow for taking measurements.
The downside of this sliding edge is that it allows more 'play' in the square so I'm not always sure that the lines are exactly square. A fixed set square would solve this problem but we would lose the measuring ability. Decisions Decisions.
Link to set square on Amazon here
15. Voltage Tester and Proving Unit
I wasn't sure whether to add this tool or not. Some electricians say that all new apprentices should have their circuits checked dead by the electrician before the apprentice begins work, therefore they don't need their own voltage testing unit.
Whilst this is true, I also think apprentices should get an understanding from the outset of how important it is to be testing circuits to prove they are dead, even though the electrician will check as well.
Either way, this is an expensive bit of kit when we are just starting out. If you work for a company I would suggest they may like to buy it for you, worth having the conversation I think.
The tester in the photo above is my trusty old one from Newlec that I keep in my box mainly to use for proving continuity. Below is the link to a shiny new Fluke one that I have just treated myself to.
Amazon Link to Fluke voltage tester here
Summary
I've tried to keep this list as concise as possible as we all know that starting out as an electrician is not the best-paid job in the world so the last thing we want to do is spend all our money on tools that we only use a handful of times.
These tools should provide a great starting point and cover you for a lot of situations you come across. If you did click the links to show your support for the site, I really appreciate it!
Also See: Do Electricians Buy Their Own Tools?