With a birthday approaching, I'm reliably informed that choosing gifts for men is hard, but I'm afraid I have to disagree. As an electrician, I love quirky and useful tools so this got me thinking of all the great little gifts I've been given that would make awesome gift ideas for other electricians.
With this in mind, I've put together this list of 15 of my favourite electrician gifts that I've received and used over the years. Most are under £30 with just a couple more expensive options if the electrician in your life deserves a special treat (or if you're just treating yourself!)
This list of 15 gift ideas are all items I actually own or have seen being used first-hand, so I'm confident that any other electrician would be happy to receive one of these gifts.
If you're running late, and the present deadline is looming, I'll give a summary of the list below.
My top 15 gift ideas for electricians are:
Extendable Magnet
Flex Cable Cutter
Pocket Light
Drill and Tap set
Flexible Grabber
Camping Stove
Puffer Pen
Interchangeable Screwdriver Set
Travel Mug
Tradesmen Pencil
Multi-tool
Mini Hop-Up
Magnetic drill bit
Head Torch Beanie
10.8-Volt Drill
We shall look at the different present ideas below in more detail but here is a quick 30-second introduction video to demonstrate that I do own and have used the vast majority of these gift ideas and I think they're great!
This article focuses on the really handy little tools electricians love but if you are looking for a more general tool list suitable for starting apprentices I shall link to that article here.
I've included some links under each section. If you choose to make purchases via these links the site pays a tiny referral commission to this site. Of course, this is not why I'm recommending them – but if I get enough money from this post to buy a coffee then that's pretty great too.
Gift Idea 1: Extendable Magnet
As electricians, we are forever dropping little screws and tools down narrow holes. Trying to squeeze our hands down into these tight spots is a recipe for frustration and cut hands. Fortunately, an extendable magnet like the one in the photo is a great solution.
This one has saved me so much heartache over the years from dropped nuts, bolts and even screwdrivers it always has a place in my toolbox. A pretty inexpensive gift, but retrieving the screw when all our colleagues have given up hope; priceless.
Gift Idea 2: Cable Stripper (Cyclops Cable Stripper)
This tool is definitely not an essential item. Many electricians manage to strip cable just fine using a knife. However, we always run the risk of scoring the cable and that's where this tool comes in. I've put a super short video below to demonstrate it in action.
Ever since I was given this gift it has been a firm favourite and would definitely recommend it as a not needed tool but a great treat tool.
Gift Idea 3: Pocket Light
Having a pocket light may seem a tad pointless when every electrician has a phone in their pocket with a torch on it. I absolutely thought the same thing until I got this pocket light and realised how much better it is than making do with a phone.
The light is so much brighter than a phone torch but better than that it has a magnetic base. This means it can be positioned at just the right angles to make tricky work so much easier. The photo shows me using the torch whilst working above a suspended ceiling.
Gift Idea 4: Drill Bit and Tap Set
This gift idea falls into the more practical category of gifts on the list. For those not familiar, a drill and tap allow an electrician to drill a small hole and then by using the tap cut a thread to screw a bolt into the hole we've just made.
This might not mean much to some readers but trust me that these tools get us out of so many predicaments at work that every time the set comes out to save the day the lucky electrician will be saying a thank you prayer in the givers' direction.
Gift Idea 5: Flexible Grabber
Nearly as useful as the extendable magnet at number one is this long grabber. It is essentially the same as the magnet, allowing us to retrieve lost nuts and bolts from the tightest of spaces. However, the big advantage of the grabber is that the tool does not need to be magnetic to retrieve it.
Many times I have dropped a screwdriver or pair of side cutters and this epic tool has helped me retrieve them. When we consider that a pair of VDE side cutters cost around £30 – £40 this grabber has definitely saved some expensive trips to Screwfix.
Gift Idea 6: Camping Stove
I get a lot of pleasure in a day out of a simple cup of tea but access to a fresh brew can be tricky. Sometimes we are in a lovely customer's home where tea and biscuits are lavished upon us, other times not so much.
Investing in a simple camping stove for the van was a great purchase for me. It runs of little bottles of gas that are cheap, and easy to get and each bottle lasts about 2 hours in my experience. Paired with a basic camping kettle it has kept me happy on many occasions and spared me countless trips to the nearest Costa.
Gift Idea 7: Puffer Pen (Chalk Marker Pen)
At first glance, these might not make a lot of sense but they are actually incredibly useful. When we are mounting a deep object to the wall trying to get our pencil in the small hole often doesn't work. These pens provide the ideal solution.
The short video below from their appearance on Dragons' Den will explain the product better than I can (I've positioned the video timer at the most important bit)
Gift Idea 8: Interchangeable Screwdriver Set
This screwdriver set is one of the more expensive items on the list but the extra cost is probably offset by the fact that an electrician is likely to use it every day. These sets allow us to carry one screwdriver handle but also have multiple screwdriver ends that interchange into the same handle.
The great perk of this tool is that we have a screwdriver to cover all situations without our pockets being weighed down by the weight of individual full-size screwdrivers.
If the electrician you are looking to buy a gift for talks about how they do a lot of walking (perhaps a maintenance electrician) or that they do a lot of testing then these will be highly cherished.
Gift Idea 9: Travel Mug
We're back to talking about cups of tea again! I won't go into too much detail as we all know the benefits of a travel mug.
As a travelling electrician that sometimes covers hundreds of miles in a day, this travel mug is the best one I've used and would definitely recommend it.
Gift Idea 10: Tradesmen Pencil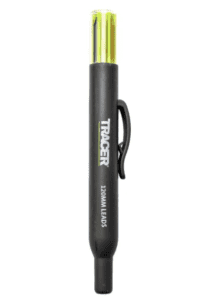 Anyone who has a manual job knows the frustration of needing to carry around a pencil in our pocket but every time we go to use it the lead has snapped! Resharpening becomes a nightmare and more often than not the pencil is thrown in the skip with the rest of the rubbish.
These tradesmen pencils are designed to be tough so they don't break in our pockets. Another great perk is that the lead can be extended extra long to get into the smallest deepest holes.
The replacement leads are really good value as well, better than the never-ending pencil graveyard we have to endure with old fashioned pencils.
Gift Idea 11: Battery Powered Multi-Tool (18-Volt)
Another gift idea that is on the pricier side but can be an absolute lifesaver. A multi-tool is not the kind of tool we use a lot (hence why most electricians don't already own one). However, when we are in a situation that requires a multi-tool they are an absolute lifesaver.
If buying a battery-powered tool it's worth finding out the brand of tools that the electrician already uses (if possible) as the batteries are interchangeable. For example, if someone owns a Bosch 18-volt battery drill, the same batteries can be used in a Bosch multitool.
This saves a lot of money as we only need to buy the 'naked' version of the multi-tool. It also has the bonus of the electrician only having to carry one set of batteries and a charger.
A multitool has personally gotten me out of so many difficult situations at work. It may not come out of the van often but when it does it is a Godsend.
Gift Idea 12: Foldable Mini Hop-Up
In domestic houses, we sometimes need just a small hop up to reach a light fitting without clattering and bashing a full-size step ladder around (upsetting the homeowner in the process).
If your gift-receiving electrician works in domestic settings (ie customers homes) these are a great lightweight tool to keep on the van.
If they do more commercial work (ie building sites and office premises) this is a gift best avoided as they would not be allowed to use this hop up in that kind of work environment due to health and safety rules.
Gift Idea 13: Magnetic Drill Bit Holder
This is the second time a magnetic tool has been mentioned and the reason is that magnets make life so much easier for electricians! A magnetic drill bit holder may not mean much to some people but the magnetised end allows the screw to stay attached to the drill bit.
I cannot stress enough how much this slight magnetisation helps. This tool is a huge frustration saver and gets used every day.
Gift Idea 14: Head Torch Beanie
Head torch beanies combine the functionality of a head torch with the warm smugness of a beanie.
Working outside in the winter this gift has not only helped me to see that I'm connecting the correct colour cables but it has also helped me to be seen by other people working on site.
The Amazon link below is to a similar product that is rechargeable, so you can use the torch as much as you need!
Gift Idea 15: 10.8-Volt Drill
Our final choice for a gift idea is definitely more on the expensive side but a great choice if your budget stretches this far. 10.8-volt drills are smaller and lighter than ordinary large drills which give them the benefit of being able to be carried in toolboxes ready for whenever they are needed.
We often need to drill just one hole or screw in just a few screws and these smaller drills are perfect for these types of jobs, saving a lengthy walk to the van.
I'm a huge fan of this Bosch one in the photo. I've used it for years and has been a reliable workhorse. If possible, it may be worth checking which brand of power tools the lucky electrician prefers as we tend to lean towards certain brands.
It's worth noting that they are unlikely to already own the required batteries (unlike with the 18-volt multi-tool mentioned above) so buying a set with batteries and a charger is the best option.
To Sum Up
I hope those ideas have given some great inspiration and if you did choose to click the links to make a purchase then a big thank you to you for supporting the site!
Why not bookmark the page or share the link with some friends then you'll have ideas to pop back to again and again.