Another holiday weekend has passed and whilst I sat in my garden enjoying the sunshine with not much else to do (one of the joys of renting) the majority of my homeowning friends seemed to be using the extended weekend break to work on their homes
Most of the people I know consider their house to be their biggest asset and are more than happy spending their weekends upgrading their homes in an attempt to add value. This got me thinking about the major home renovation projects, such as rewires, that people take on.
It's pretty obvious that slapping a coat of paint on a wall (you can tell I'm not much of a DIYer) is likely to help when the time comes to sell. But what about the bigger jobs with greater financial outlay such as rewiring. Does rewiring a house add value?
Using my experience as an electrician rewiring many homes, we'll have a look at this question and the tricks I've seen people use in an attempt to squeeze the most they can when the time comes to cash out.
Does Rewiring a House Add Value?
Rewiring a house can add significant value as potential purchasers are not trying to factor in a worst-case scenario of having to foot the bill for a rewire after purchase. Like many renovation projects, there is room to make a profit providing it is planned carefully.
I've been to view a few houses recently with the hope of getting on the property ladder. One of the first things I notice (usually in the hallway) is how old the fuse box is. You can tell a lot about the electrical condition within a house just by looking at the fuse box.
I appreciate that as an electrician I may be slightly indoctrinated to notice fuse boxes straight away, but I do notice plenty of other prospective buyers asking themselves the same question of whether or not they will need to get the house rewired once they move in.
The problem with this, from a seller's point of view, is that now the buyer starts putting theoretical numbers and scenarios in their head regarding the cost and disruption of the rewire they have convinced themselves they are going to need.
Any homeowner or sales agent that can show prospective buyers a new installation certificate demonstrating the house has been completely rewired is lifting a fear from any potential buyer's mind.
That being said, it is important to weigh up the cost of the rewire compared with the potential to add extra value before committing to anything. It would be very easy for a homeowner to go through the hassle of a rewire without ever adding the value they hoped it would.
From the rewires I have been a part of, the ones that are most successful are the ones where the owners start off with a clear idea of what they are trying to achieve. This may not be as obvious as it sounds at first.
There are two potential scenarios for wanting a rewire. the first is to simply make the property safe to achieve a satisfactory electrical installation condition report (EICR) so that potential buyers don't run a mile in fear for their safety. The second is to make the home look show home epic and add all the finishing touches that are going to have buyers queuing up to open their wallets.
Rewiring is a Chance to Show Your Home Off
Rewiring a house is a chance to add value by making the electrical systems safer, but more than that it is also a chance for a complete revamp of the old electrical fittings, replacing them with clean modern versions which appeal to everyone.
All buyers love a shiny new object. Anyone who has given their car a good clean before taking the eBay photos understands the basic concept of putting your best foot forward when it comes to marketing your items for sale.
When rewiring a house, we can completely change the electrical system and its components. We can add awesome fittings people love, such as dimmable downlights in the living room, under-counter lighting in the kitchen, and outside lights to really show off that new decking or even illuminate the walls of the house.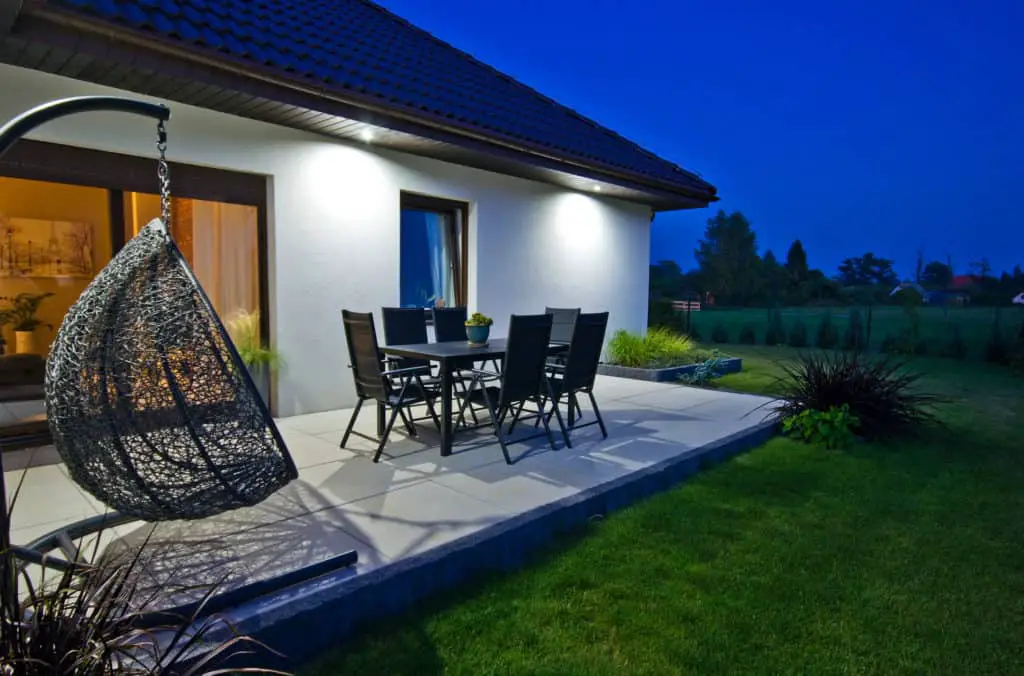 We can also add extra sockets behind TVs to clear up unsightly extension leads and add additional ethernet ports in the bedrooms so that everyone has fast internet. These are all the little touches that help set the house apart from the others on the market.
Smart home systems are a step further again. Whilst they represent more of a financial outlay, in the beginning, having smart sockets and lights dotted around the home adds another touch of class in my opinion.
Should You Rewire a House Before Selling It?
Rewiring your home can make it easier to sell as many buyers want to see a satisfactory electrical condition report before committing to purchase. If the property requires a rewire in order to achieve a satisfactory report the homeowner should give it serious consideration.
If the property is being purchased by a prospective landlord they will have to obtain this certificate before any tenants move in. Buying a house where they know the certificate is easily achievable will be a big tick in the landlord's box.
I have heard customers say that they got a rewire before selling as it was a great opportunity to pack up belongings and have a sort out before the move. If you have to pack all your stuff into boxes anyway, why not do it early and put some of it into storage, saving some of the disruption caused when the electricians move all the furniture to lift the floorboards during the rewire.
A major downside to burst the bubble on this rewire-to-add-value-to-our-homes-love-in is the time all this work is going to take. The rewire itself is likely to last only a few weeks (all being well), but the redecoration and cleaning up the mess afterwards is going to take a lot longer.
The timescale will be dependent on if you hire plasterers and painters to redecorate the walls and ceilings, or if it is going to be lots of late-night DIY efforts for the sellers.
When contemplating a rewire it's probably best to ask the question, do you plan on renovating the complete decor as well? If the answer is no, the damage caused by the rewiring may put potential buyers off more than anything
Will Rewiring Make You A Profit When You Sell Your House?
The only way to truly know if a rewire will add enough value to a house to make it worthwhile is to get quotes from several local electricians for the work, remembering to factor in the costs of plastering and redecorating afterwards. Then contact local estate agents and get their guidance on what the house is worth pre and post-work.
Rewires and the decoration work that follows will run into thousands of pounds (3 thousand pounds + for a 3-bed house). You may be able to get your home rewired for free, but homeowners should be very careful to crunch the numbers and consult local specialists within their area before ploughing on with any work.
It's also worth bearing in mind that an electrical inspection condition report carried out by a local electrician may sign the house off as satisfactory without needing any work (or only minimal repair work done to it) An EICR costs around £200 and takes around half a day to complete. This is the most accurate way of assessing the condition of the writing systems within the home
Many electricians won't contemplate a rewire without first carrying out a periodic inspection. Deciding on the need for a rewire before having a local electrician check the property is like scrapping a car and buying a new one without even taking it to a mechanic to find out if it is repairable first.
Final Thoughts
Whether or not a rewire adds value to a house is really a question of area specificity and the house itself. If a rewire is the only way to obtain a satisfactory report and buyers want to see one then it may be the best route forward. Similarly, if the idea is to have a rewire to make the house show home worthy then awesome, your house your rules.
The nagging doubt I have in my mind from a personal perspective is that in the city I live (Bristol in the UK) houses seem to fly off the market the second they are put up for sale. It seems like one could put a bed in a garden shed, call it a house and it would sell within the hour. In such a seller's market with buyers climbing over themselves to outbid each other I'm not sure the hassle of a rewire is worth it.
As mentioned earlier, chat with a few local estate agents and local electricians then crunch the numbers. It may be that all the hassle from a rewire doesn't really add any additional value to your home at all and you can save all that time and effort.