If you are having electrical work done, or are currently getting quotes, you may be wondering about what kind of certificates you should be presented with once the work is complete. The different types of electrical certificates can be a bit of a confusing affair, so in this post, I have broken the 3 main ones down into simple terms!
If you're questioning, what certificate do you get after a rewire? or should you get an electrical certificate after having work done? – My aim is for this post will serve as a guide. Of course, there are nuances and finding a local electrician who you trust is always going to be the best way forward, but it never hurts for customers to arm themselves with a little extra knowledge in advance.
The 3 Main Types of Electrical Certificate
The three main types of electrical certificates you will come across as a customer are
Electrical Installation / Domestic Installation Certificate
Minor Works Certificate
Electrical Inspection Condition Report (EICR)
The table below gives examples of when these three main types of certificates may be issued
Table summarizing the 3 main types of electrical certificates
| Electrical Certificate | When it may be issued |
| --- | --- |
| Electrical Installation | After completing installation work – examples included a fuse board upgrade, a new supply for a cooker, or a complete rewire. |
| Minor Works Certificate | Issued after making small adjustments to an electrical circuit – such as adding additional sockets, or additional light fittings, to an existing circuit |
| Electrical Inspection Condition Report | Not a certificate as such but an assessment of the overall safety of the electrical installation – For example, landlords have these completed on their property to ensure the electrical systems are safe for their tenants to use. |
Hopefully, the table above provides readers with a basic understanding of the type of electrical certificate they should be presented with after an electrician has carried out their work.
I've tried to keep things as simple as possible but like everything the devil is in the detail so it's super important to find a local electrician who you trust and listen to their reasoning for issuing a certain certificate over another.
Electrical Installation / Domestic Installation Certificate
An electrical installation certificate is the type of certificate a customer receives after an electrician has installed one or more new circuits. Examples include a complete rewire, a replacement consumer unit or a new cooker power supply.
As a general rule, any time electrical work is done at the consumer unit, a new installation certificate will be issued.
A new installation certificate currently stands at 6 pages long and covers everything there is to check during an electrical inspection. Completing the document correctly takes time – which invariably adds cost to the job – but is a vital part of ensuring work is done safely.
If you have had a rewire completed then you will be issued one of these certificates. The same is true for new build properties. An installation certificate is the electrician's way of certifying that everything is correct and safe for customers before they begin using their new power supply etc.
Perhaps confusingly, an electrical installation certificate does not have to mean that the whole electrical installation has to be newly installed, only a part of it.
I appreciate the idea of trying to work out if it is a new installation or not may be a little confusing, but the electrician carrying out the work will know if they need to issue this type of certificate or if a minor works certificate (discussed below) is needed instead.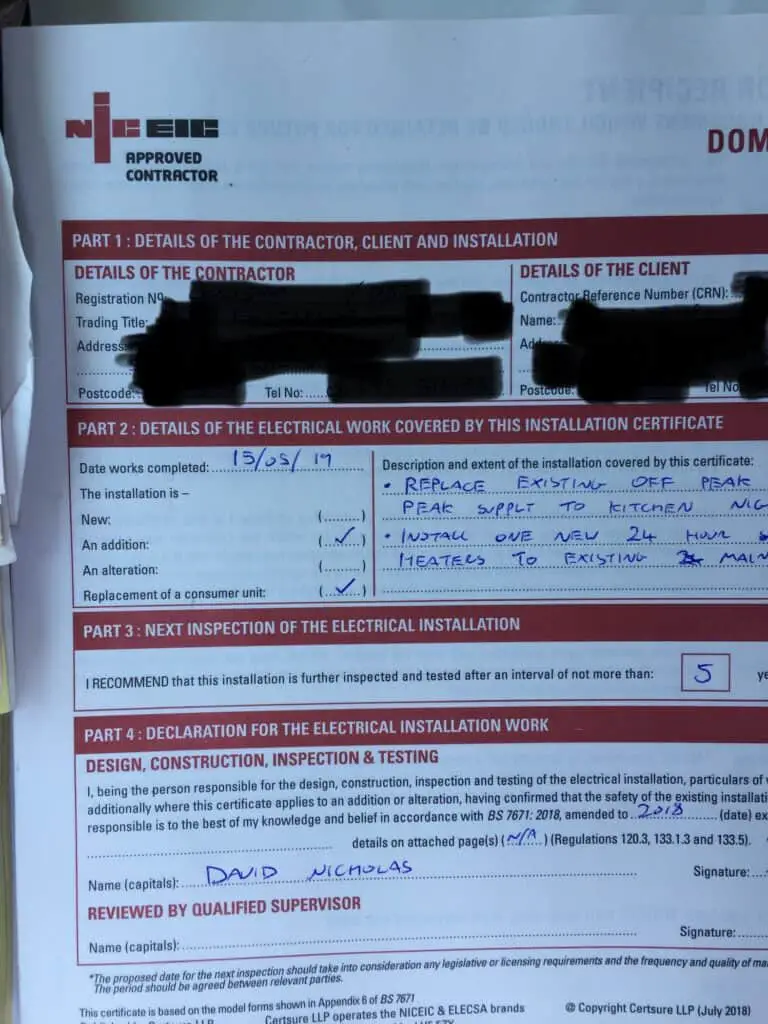 Minor Works Certificate
A minor works certificate is issued after an electrician has made an alteration to an existing circuit. Minor works certificates are often used to certify work such as adding additional sockets to an existing circuit or increasing the number of light fittings in a room.
I think it's fair to say that minor works certificates are more common for domestic customers to receive as the majority of work involves making slight alterations to existing circuits.
A minor works certificate is a way for electricians to certify that they have tested and are happy with the safety of the existing circuit they are making adjustments to. The certificate also demonstrates that the alterations they have made are safe and ready to be used by the customer.
Although a minor works certificate is much more concise – currently only a single page – there are still many elements to the electrical installation that the electrician must test. An electrician cannot make alterations to an existing circuit if the installation as a whole is unsafe or if the circuit they are adapting does not comply with new wiring regulations.
An electrician carrying out the work will be able to advise if they can issue a minor works certificate for the job or if a new installation certificate is required.
Electrical Inspection Condition Report (EICR)
An electrical inspection condition report is issued when an electrician has been tasked with inspecting the existing electrical installation and reporting their findings. An EICR is used as a safety check on the current system and used to highlight any potentially dangerous issues that need address.
Unlike the other two certificates issued above, an EICR can give an unsatisfactory result – meaning the electrical system requires improvements. This is an important distinction. Minor works or installation certificates are certifying that the work the electrician has completed is safe and complies with current regulations.
I like to explain an electrical inspection condition report as being similar to an annual car MOT. An MOT is an inspection by a professional (in this case a mechanic) to provide the car owner with the knowledge as to what sort of condition their car is in. It's possible to be issued with a notice that the car has failed the MOT – in the same way, an EICR can point out that the electrical system has failed its inspection.
During an EICR an electrician must instantly make safe any code 1 faults they discover (immediate danger to health – such as exposed live wires) but this is where their duty to make improvements stop. Much like an MOT, the EICR advises of any potentially dangerous safety issues but it is ultimately the homeowner's responsibility to organise to have the faults corrected.
Disclaimer – Always consult a qualified local electrician who can advise about the particulars of your electrical installation. Electrical safety is hugely important and in-person professional advice should always be sought and followed.