Whenever I am asked what's the one thing I like best about being an electrician, I always answer without a doubt that it is the variety of work locations. As a sparky, getting to work in a wide variety of places and see some really cool and interesting stuff is (and I hope will be for the foreseeable future) the main reason I love my job.
I'm not knocking anyone who has an office job, in fact, there are days when I envy the idea of the stability a fixed location must bring, but in reality, I know this type of work would not be well suited to me. So, if you thinking of a career as an electrician then this post going over where electricians can work will hopefully offer guidance on which areas you should pursue.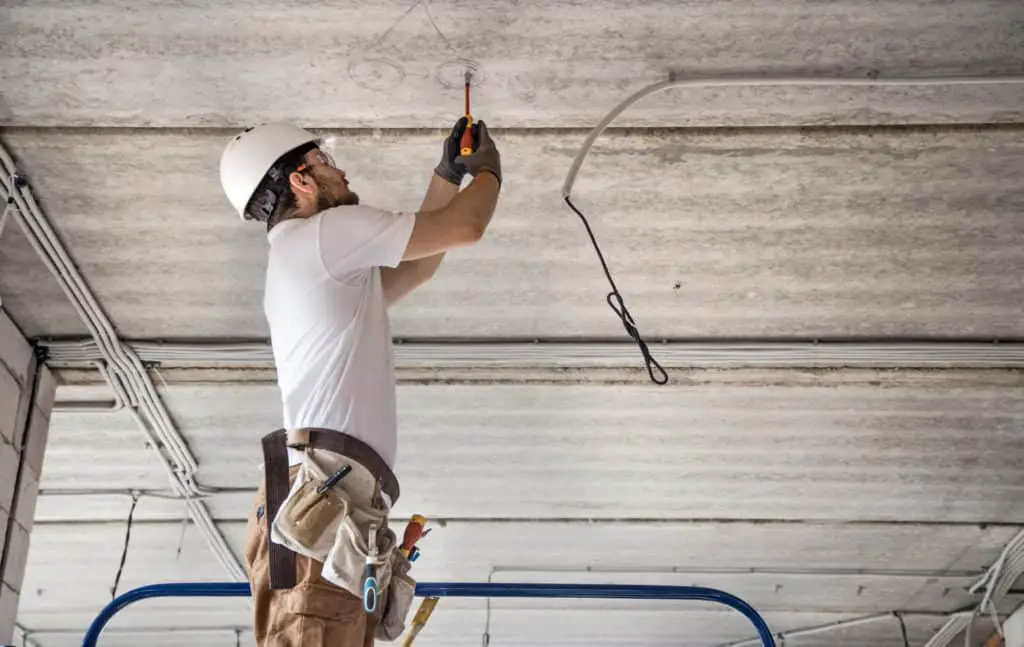 Where Do Electricians Work?
Domestic electricians work in customers' homes, often in the local area where the electrician lives. Industrial and commercial electricians work on larger projects such as offices and power stations and often need to travel further from home for work.
Electricians work in a wide variety of locations determined by the type of electrician they choose to specialise as. Deciding how much you want to travel and the type of work that interests will help newcomers decided on their preferred specialization.
Below we'll take a look at where the different types of electricians typically work.
Where Different Types of Electrician Work
| Type of Electrician | Example of Work Locations |
| --- | --- |
| Domestic | Private homes, council properties, new build housing developments |
| Commercial | Schools, stores, factories, offices, |
| Industrial | Power stations, water treatment sites, oil refineries |
| Power Systems | Power stations, wind farms, distribution lines |
Table showing examples of where electricians can work
Where Do Domestic Electricians Work?
Domestic electricians work in customers' homes carrying out tasks ranging from small jobs, such as lighting repairs all the way up to larger jobs such as complete home rewires. As we are working in customers homes a good manor is essential.
Working in homes can see us crawling through loft spaces (super hot and itchy in the summer) or outside installing electric vehicle chargers. Domestic electrical work provides variety but it's fair to say not quite as much variety as some of the other electrician avenues available.
Being a domestic electrician requires a different skill set than the other electrician types. Whenever a customer allows an electrician into their home they are trusting us to do a professional job whilst being respectful of their private surroundings.
Electricians that have come from a more industrial background can find adjusting to the polite customer-facing role takes some getting used to – and that they need to leave the loud radio and fruity language behind!
Where Do Commercial Electricians Work?
Commercial electricians work in various locations such as factories, shops and offices. A variety of work types and locations is a huge part of being a commercial electrician, and we often have to travel long distances for work.
Most of my career has been spent as a commercial electrician so this is one of the areas I have the most experience. If I were, to sum up where I have worked as a commercial electrician using only one word it would be variety.
Commercial electricians will often be told on a Friday where we need to report on the following Monday. Our on-site hours are typically the same each day (8 am till 4 pm for example) which means travel to the site is done in our own time.
From my point of view, I love the fact I get to work in some really cool locations ranging from large stores to secret government facilities. Another perk of commercial work is getting to spend multiple months, possibly even years working on the same projects.
The downside to being a commercial electrician is that we may have to travel quite far for work and possibly even stay away in hotels during the week. this could be a blessing or a curse depending on your home life I guess!
Where Do Industrial Electricians Work?
Industrial electricians work on major electrical projects such as wind farms and power stations. Industrial electricians are the heavy hitters of the electrician world and need to be proficient in installing metal containment systems and large armoured cables.
Industrial electricians are similar to commercial electricians and in reality, the two are pretty much made up of the same group of people. Most commercial electricians will work on more industrial sites at some point and vice versa – most industrial electricians will work on smaller commercial projects if needed.
Some electricians prefer the large site mentality often associated with industrial work. Working on large power stations involves strict health and safety rules and multiple tradesmen working alongside each other. Some enjoy the banter that comes with this type of work, others not so much.
Industrial electricians typically travel the furthest afield for work. I have worked on large industrial projects and many of the other electricians there have travelled 5 hours or more for the job. Large projects are more spread out across the country and staying away in hotels becomes the norm for these electricians.
Where Do Power Systems Electricians Work?
Power systems electricians maintain the power distribution network which spans vast geographical areas. Where power systems electricians work varies from large power stations to remote areas of the countryside which the power lines pass through.
Power systems electricians will typically specialise early on in their careers and this has an effect on where they work. Some become substation fitters and travel amongst the various substations within their local area. Others become cable jointers or overhead linesmen who can find themselves in very remote locations trying to hunt down a fault on a power line spanning many kilometres.
I have always enjoyed getting the chance to work alongside high voltage colleagues. In my experience, the work is really eye-opening and interesting. However, like industrial electronics, power systems electricians should be prepared to spend a large chunk of their day travelling.
Final Thoughts
Electricians typically work in a wide variety of locations. Although we have separated out the different types of electricians in the subheadings above, in reality, most electricians will cover a few different types.
Domestic electricians will take on commercial work and vice versa. Personally, as a commercial electrician, I have often found myself in customers' homes due to large contracts won with local authorities to cover their social housing requirements.
Although there is overlap between where the different electrician types work, most try to stick to what they enjoy and what they know best. Electricians used to being offered cups of tea in customers' homes often don't like the high-vis-hard-hat nature of large industrial sites.
Similarly, large building site electricians find lifting floorboards and crawling around baking hot loft spaces is something they would much rather avoid.