We've just had a weekend of severe storms here in the UK, with trees being blown down and power supplies being disrupted everywhere. While many people have taken to Facebook to air their frustration about how long their electricity has been off, I can't help but have huge admiration for the teams of electrical linemen and women that are working long hours to restore the power.
I realised that although I have worked with many power distribution electricians I'm not entirely sure what their job consists of. The aim of this article is to discover the type of work electrical linemen do on a daily basis as well as the type of responsibilities they have to shoulder.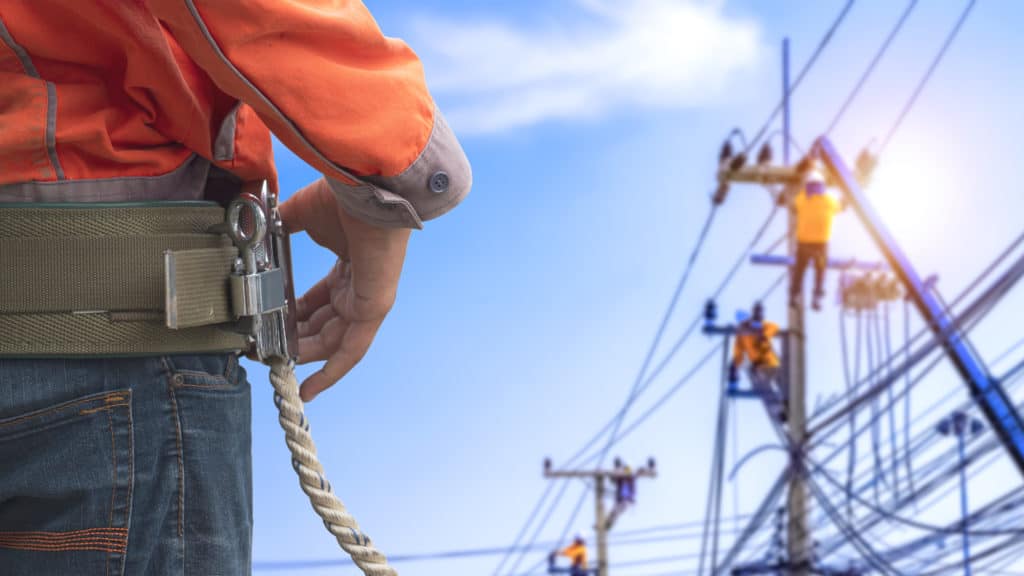 Electrical linesmen are responsible for carrying out maintenance and repair work to high voltage power lines which form part of the electricity distribution network, or national grid as it is often called. Overhead linesperson is a very specialist electrical role with unique challenges.
So that's the brief outline of what an electrical linesman does but I'm sure most of us what to look a little deeper into the role, especially if we are considering it as a career option.
Another term for electrical linesmen is overhead linesperson and this more modern name takes the gender connotations out of the name. Both men and women can become overhead linesperson and the construction industry is actively encouraging applicants from underrepresented groups. I've used the title lineman often as this is the term the majority of people search for.
What Does an Electrical Lineman Do Every Day?
As an electrician for a power distribution company, I've had an opportunity to talk to several linemen and find out what they do on a daily basis. Although I always keep my feet firmly on the ground!
An Electrical linemen's daily tasks include:
Maintaining and refurbishing overhead power lines
Making diversions to the power lines
Building new projects within the existing power supply system
Replacing conductor wooden poles
Replacing and maintaining transformers and other electrcial equipment
Removing trees and other obstructions from the power lines
Carrying out risk assesments and method statements
Keep constant training records to maintain DNO authorisation
We can see that the daily tasks are very varied. It's fair to say it is a very manual job that requires working to the strictest safety standards in very challenging conditions.
I'll put a link here to a PDF document I found that provides more details on the types of tasks that linesmen are expected to do.
What Are The Responsibilities of an Electrical Linesmen?
All electricians carry a large amount of responsibility when carrying out their work, but the voltages that linemen work with make it an especially dangerous job that carries a huge amount of responsibility.
In the world of high voltage, electricians (or craftspersons as they are often called) are trained and certified to work at various voltage levels.
For example, an overhead linesperson may be trained and certified to work on installations up to 33KV. (That's a whopping 33,000 Volts!) Although the voltage of the electricity network goes a lot higher than this, the linesman in this instance would only be allowed to work on 33KV and below.
When we bear in mind that the electricity in our house can be lethal at a much smaller 230 volts we can see how any minor errors would have catastrophic results.
It is a linesmen's responsibility to follow all safety procedures and comply at all times with regulations and the permit systems under which they are working.
What Skills Do Linemen Need to Have?
The skills a lineman needs to have can be broken down into two parts. The qualifications that they need alongside the personal attributes they must have.
Qualifications and training a lineman in the Uk requires:
City and Guilds Level 3 – 2339 (electrcial power engineering)
Distribution Network Authorisation
IPAF accreditation
NPTC Chainsaw qualifiaction
New Roads and Street Works (NRSWA) course
Many of those acronyms will sound gibberish to a lot of people so ill break them down a little bit below and provide some useful links if you would like to learn more. It's worth remembering that these are the qualifications when someone is fully qualified and working on the networks. If just getting started we only need to focus on securing an apprenticeship to gain the 2339 qualification.
Qualifications Needed to Become an Electrical Linesmen
| Qualification | More Details |
| --- | --- |
| City and Guilds level 3 – 2339 | 2339 is the qualification gained following an apprenticeship as an overhead linesperson or other power distribution role. |
| Distribution Network Authorisation | Each distribution company (ie Western Power, SSE, etc) issue authorisation for operatives to work on their networks. Passing Distribution Network Authorisation tests is a vital part of being a linesperson. |
| IPAF | IPAF is the qualification required to safely work at height. We mention IPAF in our working at height article which covers bog-standard electricians such as myself! |
| NPCT | NPCT Chainsaw qualification allows the safe use of chainsaws |
| NRSWA | NRSWA is a course for working safely around public roads. |
Table showing qualifications and courses needed to become an electrical linesmen
It seems there are lots of courses and tests which need to be passed in order to be let loose working in such a high-risk environment.
We can briefly touch on personal skills needed such as:
Risk Adverse
Methodical
Team Player
Enjoy working at heights in all weather conditions
Good listening skills and able to follow instructions
During my research, I found this bio of an overhead linesperson on Western Power's website which I think provides some more useful info on the type of personal skills needed.
Do Electrical Linesmen have to Travel a Lot?
Electrical linesmen often have to travel a lot as they have a specialist skillset that is in demand across a wide area. The work location for an overhead linesperson changes daily and covers vast rural areas.
I wrote an article regarding if normal electricians travel a lot (linked here) The main reason standard electricians don't have to travel huge distances is that there is usually a talent pool of local electricians to pick from.
Specialist roles such as linesmen have far fewer qualified and experienced people so those that are trained and experienced have to travel much further to fill in the gaps.
The area that a distribution network will cover is large. As the linesperson works for the distribution company they can find themselves travelling lots of miles to work anywhere on their network.
Difference Between Electrician and Linesman
There are such huge differences between the role of an electrician and that of electrical linemen that the two trades have little in common apart from the fact they both work with electricity.
Electricians work on low voltage systems for the end-user at between 230 to 400volts. An electrician's responsibility starts when the electrical supply enters the building, in fact, it is against the law for an electrician to interfere with the electric meter or main fuse to the building.
A linesman works on the high voltage distribution side of electrical systems at voltages of around 11 thousand volts and above. They do not get involved in the electrical systems within buildings but instead focus on the main supply network between the generation plant and the point where it enters the customer's home or commercial building.
The two roles are so different that the qualifications are not interchangeable. If a qualified electrician decided they liked the thought of having a go at being an overhead linesperson they would have to completely retrain.
Of course, some of the skills would be transferable such as dexterity when using tools and electrical theory so the electrician would have an advantage compared to a brand new recruit, but the head start would be pretty minimal.
I've known a few colleagues make the jump from being an electrician to become a high voltage electrician so it is not unheard of. Becoming an ordinary electrician can give you a foot in the door to becoming a linesman or other high voltage electrician.
Benefits of Being an Electrcial Linesman
The linesmen I have met throughout the years really enjoy the work they do and tell me they would never consider doing anything different (except perhaps on the wettest and coldest days!)
Some of the benefits of being an electrical linesman are:
Working out doors
Variety of work locations
Huge variety of work tasks
Well paid
Highly skilled
Always in high demand
Lots of overtime potential
Company vehicle provided
Team work and camaraderie
Career progression
Ongoing training opportinities
It's no doubt that being a linesman is a very physically demanding job but there are a lot of benefits for those willing to put up with the hard manual work.
Linesmen often find they are at their busiest straight after a storm and they tell me the professional pride they feel when restoring power to customers' homes give them a real buzz (pardon the pun).
Final Thoughts
After researching what being a linesman is like I'm happy that I chose the route of being an ordinary electrician. It seems to me that being an overhead linesperson is a great career for some people but only those who enjoy working at heights and being outside in all weather conditions.
If these two factors sound like your ideal job then a great career with huge earning potential awaits.