In my daily life as an electrician, one of the more common jobs I have to complete is adding additional socket outlets to a room. With so much technology in our homes and offices now relying on power consumption, stretching extension leads all around the floor no longer cuts it for most people. One of the first things customers want to know when I quote for adding a plug socket is how long the work is likely to take.
How long it takes to install a new plug socket varies by location. I'll attempt to show the variables in this post so that readers can make an accurate estimation about how long it is likely to take an electrician to carry out the work. As well as using my experience I'll also poll other electricians to find out if the time it takes me is about average.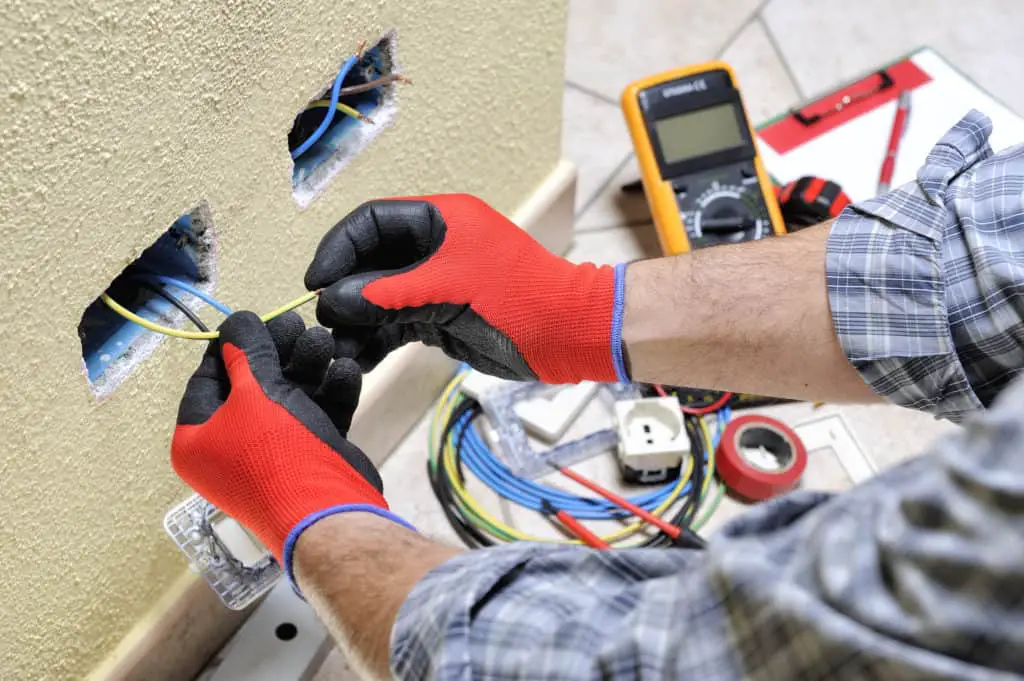 Installing a new plug socket takes an average of 2 – 4 hours for an electrician. The time it takes is greatly influenced by the installation method used and the proximity to another socket outlet. Concealing cables in the wall is most visually appealing but takes longer compared with other methods.
How Long Does it Take to Install a New Plug Socket?
Table Showing Results from Poll of Other Electrcians
| Average Time to Add a New Plug Socket | Number of Electricians |
| --- | --- |
| Less than 1 hour | 0 |
| 1-2 hours | 2 |
| 2-4 hours | 6 |
| 4-8 hours | 3 |
| More than a day | 1 |
Table showing results from a poll of electricians asking how long it takes on average to install a new socket outlet
We can see from the results that the average time it takes an electrician to install a new socket outlet is between 2 and 4 hours. It must be said that I had to coerce some of the electricians into committing to an answer as all said it depends so heavily on the specific situation.
We'll see through this post that giving an accurate prediction on a timescale is difficult. Therefore, in my opinion, it is much more useful to give readers an idea of the various factors that speed up and slow down adding a socket so that we can make their own personal estimates.
Of course, the electrician that you hire will give the most accurate info but it's nice to have an idea before you call them. If you came here looking for timescales to simply replace an existing plug socket I shall link to that article here.
What Can Slow Down Installing a New Plug Socket?
The two main factors that can make adding a plug socket more time consuming are:
If there are no suitable existing plug sockets nearby.
If the cables and socket back box are going to be chased into the wall
When adding a socket we look for other suitable sockets so we can extend the existing circuit. For example, if we are adding a new socket right next to an existing one this is a much quicker task (for example, behind a TV we often have multiple sockets next to each other) than if the only suitable existing socket is the other side of the room.
Another time-saver is when we can go 'back to back' on the sockets. For example, if there is a suitable socket in the living room and we want a new plug socket in the hallway we may be able to drill behind the living room socket out into the new socket position in the hallway. We simply put a small piece of cable between the two to link them up.
I use the phrase 'suitable socket' because we are governed by regulations (BS7671) regarding which socket circuits we can extend.
When cables are buried in a wall and plastered over (then finished with a coat of paint) we call this chasing them into the wall. We have a whole article about chasing walls but it's safe to say that it takes a lot longer to chisel out channels in the brickwork, place the cable in the channel (usually in some conduit) and then plaster over and paint, then it does to use some of the other methods shown below.
How To Make Adding a New Plug Socket Quicker
Electricians can make adding additional plug sockets much quicker by using surface mounted containment systems. The most common type found in homes is cable trunking or mini trucking as it is often called. Using trunking is much quicker than chasing and re-plastering the walls.
If this method is so much quicker why don't we all use it?
Unfortunately, although surface containment systems are quicker it is not very attractive to look at. Most people prefer to have cables hidden neatly in the walls rather than having strips of white plastic attached to the surface.
If we don't care so much about aesthetics (perhaps adding a new socket in a garage or shed) then options such as mini trunking or conduit are great cost-effective time-savers.
How Can I Help an Electrician When Adding a New Electrical Socket?
If we want to reduce the time it takes an electrician to add a new plug socket then we can help with some of the prep work. For example, we may be able to do the chasing once the electrician has marked out the safe zones and confirmed they are happy for us to help.
Another option I've always found to be a great help is if the customer sources the materials for us. I'm more than happy to give the OK on a particular shopping list that the customer can then make the trip to B&Q to get. Getting the materials in advance of me going to the job as it saves me a lot of time ad speeds the job up.
If you decide to help by getting the materials, make sure the electrician gives the ok before you go ahead and buy. There's nothing more disappointing for everyone than when you turn up and the customer has bought materials that aren't suitable
Is it Easy to Add a Plug Socket?
For most electricians adding a new plug socket is a relatively easy task. The location of the new socket and the cable route are the biggest factors in how easy it is. Lifting of carpets and floorboards to provide cable routes make adding a new plug socket more difficult.
The fabric of the wall can make adding a plug socket much easier. If it is a stud wall (ie hollow internal wall) we can route the cables internally in the cavity with much greater ease than drilling and cutting away at a brickwork outer wall.
The easiest locations to add a plug socket to an existing circuit are usually garages as we can use surface-mounted cable containment methods such as conduit or trunking.
In my experience, the most difficult places to add sockets are usually kitchens. This is due to the tiled surfaces and wall-mounted cabinets all creating obstacles that make finding a cable route through without causing too much disruption a challenge.
Is Adding a New Electrical Socket Notifiable work?
Adding a new plug socket is notifiable work and any electrician who carries out the work will issue either a minor works certificate or a new installation certificate.
Do I Need an Electrician to Add a New Plug Socket
We should always get a qualified electrician to install a new plug socket. An electrician understands all the relevant regulations and will thoroughly test their work upon completion so that the homeowner knows the new socket is safe and complies with the latest standards.
Although there are now lots of how-to videos online there are so many dangers when working with electricity and designing electrical circuits that in my opinion no one should take the risk and try and DIY electrical work.
Final Thoughts
We saw from the poll that the average length of time it takes an electrician to install a socket outlet is 2 to 4 hours. However, with there being so many changeable factors, the question of how long it takes an electrician to add a plug socket is a question that the homeowner can calculate better than a poll of electricians who have never seen the job.
There are now so many sites such as mybuilder, which allow customers to contact multiple tradesmen in one go and obtain free accurate quotes that the best way to find an accurate timescale is by asking a local electrician to pop round and take a look!